The Farm
Arctic Organics is a small scale family vegetable farm near Palmer, Alaska run by Sarah and River Bean since 1988. Our goal is to ensure clean, pesticide-, GMO-, and chemical-free produce and to practice sustainable farming techniques that are harmonious with nature. To that end, we grow 100% of the produce we sell, use as many local resources as possible, and have fostered a direct sustainable connection between farmers and consumers in our community.
We have a Community Supported Agriculture program for which we provide 125 families with weekly deliveries from mid-June through September, sold by seasonal subscription. We also sell produce, plants, apple trees, and cut flowers at our farm and at the Anchorage Farmers Market from early May to mid-October, and we grow custom specialty vegetables for local restaurants. Storage vegetables are available by special order while supplies last through the winter.
Alongside farming, we spearheaded the development of an Alaskan organic growers' certification program, the Alaska Organic Association. We were also active in starting the Eagle River Farmers Market and the Anchorage Farmers Market.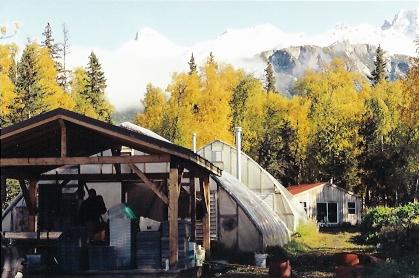 The farm comprises 20 acres of land on the floor of a glacial valley. 6 acres are cleared for cultivation, and are protected by a 6′ electric moose fence, where we grow 50± vegetable varieties plus cut flowers in 4'x100′ raised beds. We have 2 additional acres in larger crops (carrots, potatoes, beets). There are two greenhouses (24'x48′ and 24'x96′) and 1/2 acre combination raspberry field/poultry run. We have a small herb garden and an apple orchard; we maintain beehives and raise chickens, ducks, and goats for family use of eggs and meat. The remaining acreage is wooded with birch and spruce trees. Wild rose, highbush cranberries, currants and grasses make up the under story. The soils are glacial silt based, fairly low in natural fertility, but high in organic matter. We develop and maintain sustainability with organic farming practices such as composting, green manure, organic amendments, low-tilth cultivation and intensive planting. We completely avoid any use of agricultural chemicals, and were certified organic by the Alaska Organic Association until the federal regulation of the term "organic" in 2002. (The short story: the Federal takeover of organic standards lowered the standards to meet agribusiness demands, and left ethical growers to seek higher ground. For the longer story, see our section on Organic Certification.)