Farmers Market
The Anchorage Farmers Market is open
May 6 through October 14, 2017!
Produce:
Arugula
Basil
Chives
Greens mix
Leaf lettuces
Pac choi
Scallions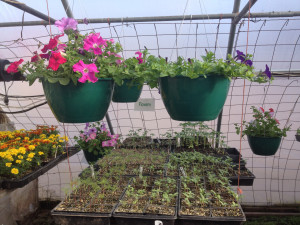 For Gardeners:
Vegetable and flower seedlings — varieties are well-suited to Alaskan growing conditions, i.e. long hours of daylight, northern soils, and the short growing season ($3.00 per cell pack, or $33.00 per any 12 cell packs).
Hanging baskets ($35.00-$40.00)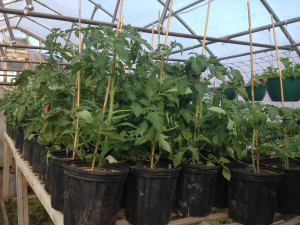 Tomato plants – many Siberian types bred for growing outdoors in the far north, and classic greenhouse types as well – 2′-3′ plant in gallon pots ($16.00).
Fertilizer blends (2.50 per lb.), Fish bone meal ($2.00 per lb.).
Anchorage Farmers Market
Location: 15th & Cordova in the Central Lutheran Church parking lot
Hours: Saturdays 9:00am – 2:00pm
Duration: May 6 to October 14
Visit the "Greens Gallery" to see lovely watercolors by Jocelyn Paine of some of the more unusual vegetables we offer!