Farmers Market
The Anchorage Farmers Market is open
May 6 through October 14, 2017!
Produce:
Arugula
Basil
Baby beets with greens
Broccoli – heads and shoots
Broccoli raab
Cabbage
Cauliflower – white, purple, green, yellow and Romanesco
Rainbow chard
Chinese cabbage
Chives
Collards
Greens mix
Herbs
Kale – green, red, and Toscano
Kohlrabi
Leaf, butter, and romaine lettuces
Mustard greens
Parsley  – curly and Italian
Radicchio
Radishes
Rhubarb
Sorrel
Spinach
Snow Apple turnips
Watercress
Zucchini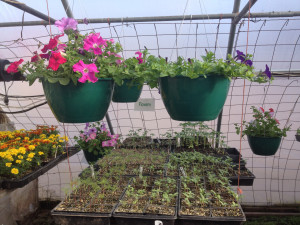 Email Notices
We send out email notices periodically listing the vegetables we have available and their cost. Subscribe to our weekly email list by clicking here. (In summer, we use the winter special order email list to notify you of summer offerings at markets.)
For Gardeners:
(May 1 – June 15)
Vegetable and flower seedlings — varieties are well-suited to Alaskan growing conditions, i.e. long hours of daylight, northern soils, and the short growing season ($3.00 per cell pack, or $33.00 per any 12 cell packs).
Hanging baskets ($35.00-$40.00)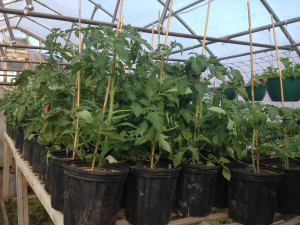 Tomato plants – many Siberian types bred for growing outdoors in the far north, and classic greenhouse types as well – 2′-3′ plant in gallon pots ($16.00).
Fertilizer blends (2.50 per lb.), Fish bone meal ($2.00 per lb.).
Anchorage Farmers Market
Location: 15th & Cordova in the Central Lutheran Church parking lot
Hours: Saturdays 9:00am – 2:00pm
Duration: May 6 to October 14
Visit the "Greens Gallery" to see lovely watercolors by Jocelyn Paine of some of the more unusual vegetables we offer!