Jobs
Currently hiring:
Full-time seasonal positions start April 1, end mid-October
Employees are trained in specialized tasks, to play a key role in the entire effort of crop production. Past outdoor work experience and good physical condition is desired.
Application Timeline:
Applications will be reviewed and selections made as early as possible starting in January. Starting and ending dates are determined on an individual basis. Year round work is a possibility.
Job Descriptions / Start Dates:
Each job description is intended as a general guideline for the area of focus. The individual holding a position is given responsibility for the tasks in the job description, however, each worker is expected to be willing to help in all areas of the farm, and frequently a crew will be assembled to tackle any of the tasks as a group. Starting dates listed are somewhat flexible. End date for full-season hires is the Friday before the last market in mid-October.
Winter preparation: starting February 1 (part-time work)
Early indoor seeding, potting soil mixing, and watering.
Greenhouse: starting March 1 and April 1
Mix potting soil; seed; transplant; water greenhouses; weed greenhouses; fertilize greenhouses; prepare hanging baskets; pot and stake tomato plants; adhere to planting schedule; keep records; harden off; plant, maintain and foliar feed greenhouse beds.
Handy worker: starting April 1
General farm maintenance including fencing, composting, developing new ground; operating small machines (i.e. BCS 10hp tiller, log-splitter, weed-eater, chipper/shredder); familiarity with tools; garden bed prep, soil and fertilizer mixing, soil amendment mixing; install drip irrigation and row covers; harvest clean-up; transporting seedlings, compost, amendments
Planters: starting May 1
Bed preparation (i.e. apply compost and soil amendments, rototill, form and rake beds, apply drip tape and IRT mulch); direct seed and transplant into garden; adhere to planting schedule; keep records for seeding, transplanting and fertilizing.
Harvesters: starting June 1
All workers are expected to participate in harvests as needed.
Field Maintenance: starting June 20
Monitor and control weed growth throughout garden; cultivate.
Ending date is the Friday before the last Farmers Market in mid-October. There is part-time work for one worker through November.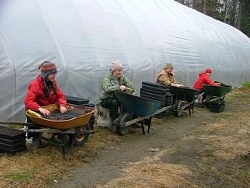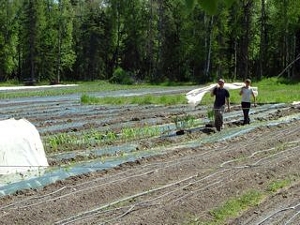 The cycle of the season:
March through June the focus is on greenhouse seeding and potting. Mid-May to mid-June is a period of intensive field planting. July's theme is increased garden maintenance, transplanting and harvesting. The work season peaks the end of July through the middle of August, after which maintenance and transplanting is no longer needed. Harvest becomes the primary activity in late August and September, along with garden clean up. The season ends in mid-October.
A typical week:
Workdays start at 8:00 a.m. The work week is generally five days long, with regular days off restricted to Saturday, Sunday, Monday.
Mondays are planting days, seeding in flats and in the garden.
Tuesdays – field and greenhouse work, harvest for CSA members if needed
Wednesdays – harvest for CSA members in the morning, field and greenhouse work in the afternoon.
Thursdays – field and greenhouse work all day. Thursday afternoon will be dedicated to harvest at the end of the season.
Fridays – harvest for Anchorage Farmers Market on Saturday. Farm stand Friday early evening. Fridays can be a very long workday, sometimes running as late as 10:00 p.m.
Saturdays – Anchorage Farmers Market.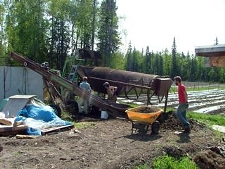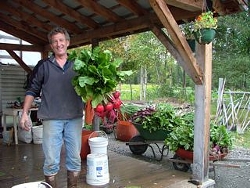 Logistics of living here:
• On-farm accommodations include a cabin (available for nominal rent – long-term only), a bunkhouse and a small trailer ($50 refundable cleaning deposit).
• Pets are not allowed.
• There are two outhouses, seasonal cold running water, a washing machine, a bucket shower, and wireless internet (using your computer – no streaming).
• Communal all-farm potluck dinners regularly.
• The climate is warm and dry (65°F-75°F) in May and June, with daylight increasing to 21 hours on June 21st. July and August are cooler and wetter, with decreasing daylight. The first frost is expected by mid-September. September can be cold and wet with temperatures ranging from 30°F to 55°F during the day, and as low as 20°F at night. In spite of intermittent wet weather, the total annual precipitation is about 16 inches, and the area is considered to be a desert.
• Mosquitoes can be bothersome in May and early June, depending on conditions.
• "Farm-use" vegetables are free to employees as available, increasing with the season.
• The question of a significant other living on the farm with a farm worker will be considered only for the cabin renter, on an individual basis.
Required equipment:
• Bedding
• Rain suit (coat and pants)
• Rubber boots (for summer), winter boots (for fall, winter and spring)
• Garden/work gloves
• Warm clothes for layering
Suggested:
• Car and/or bicycle
• Cell phone